Samy Briss was born in 1930 in Issai, Rumania. He studied at the Academy of Fine Arts in Bucharest (Camil Ressu's studio) in 1960 he settled in Israel, and in 1967 he had his first one-person show in Tel-Aviv. He had 27 one-person shows in France, Israel, Holland, Luxembourg, West Germany, the U.S.A., and Canada. He took part in group exhibitions in France, Israel, Rumania, Switzerland, U.S.A., Venezuela, notably at the 1959 Engraving Trienelle in Switzerland and at the 1962 Poster Bienelle in Warsaw. His murals of mosaics and relieves on wood or aluminium decorate several public buildings. His works are in Museums and private collections in Rumania, France, Israel, England, W.Germany, Sweden, Holland Luxembourg, Canada, and the U.S.A. The artist lives and works in Paris.
After leaving the Academy, Briss was mainly active as a printmaker, producing a large number of woodcuts and lithographs which, like his early still life paintings, display the influence of Georges Braque, among others. In 1959 Briss emigrated to Israel, where he had his first retrospective in 1967 at the Nathan Gallery in Tel Aviv, and where he painted several murals in public buildings during the first half of the seventies.
Briss acquired an international reputation in the seventies and eighties from frequent exhibitions, often several a year, in Europe, Canada and the United States.
The work of Sami Briss reveals an introspective, dreamy, timeless world which, despite the time that has elapsed since the Artist left his native land, seems largely inspired by his childhood memories, Rumanian folklore and icon painting.
This apparently symbolic imagery has gradually expanded to include elements based on Briss'sejourn in Israel, his private life and his dreams. His work, most of which has been done in small format since the sixties, is built up from a harmonious interplay of stylised, figurative, round shapes with flowing outlines. The golden background invests the colours with a deep, full glow, enhancing the evocative character of the representations.
Sami Briss'art does not follow artistic trends. It is highly personal, with a powerfully poetic charge.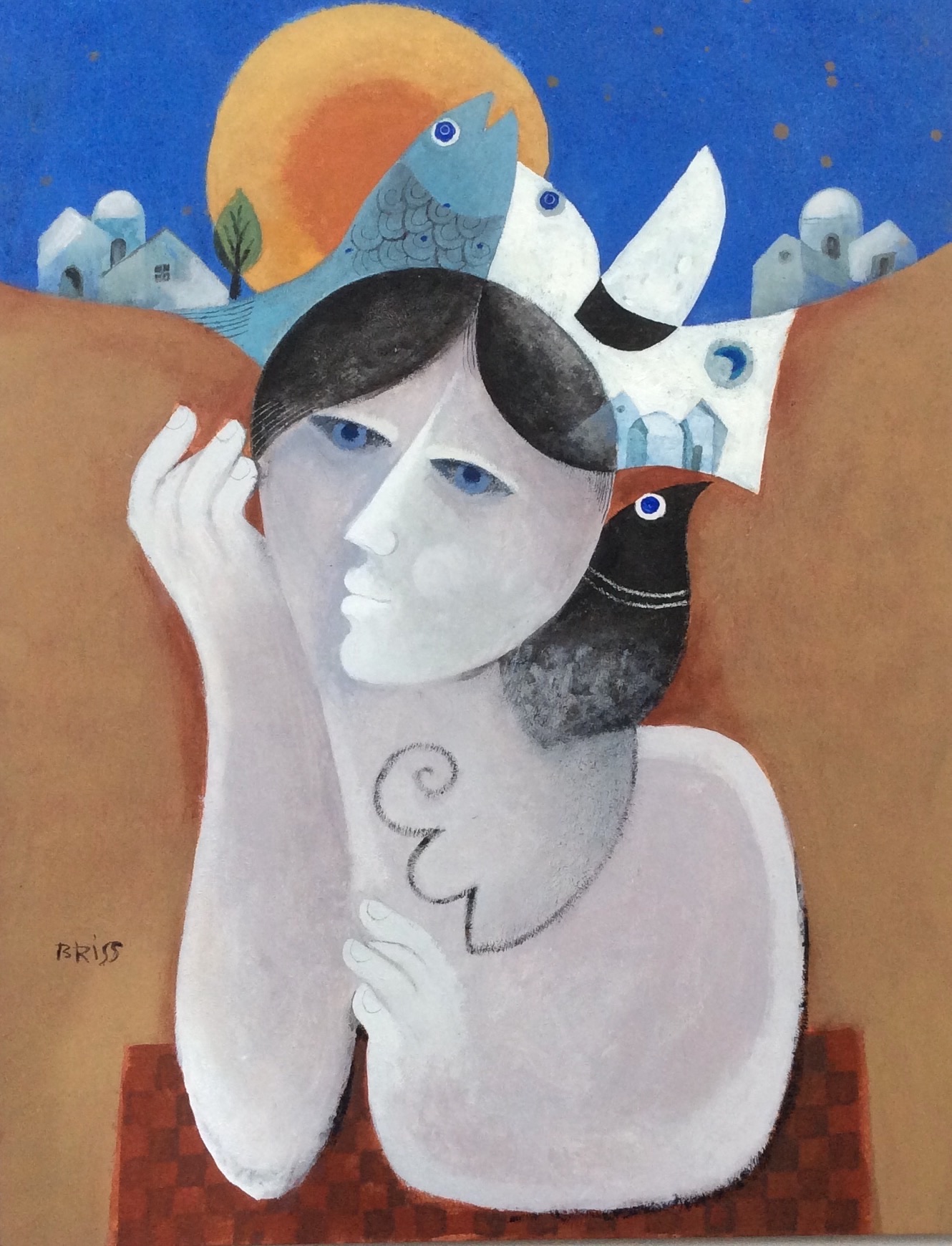 Jeune fille à l'oiseau, 2020
Oil on panel
70 x 60 cm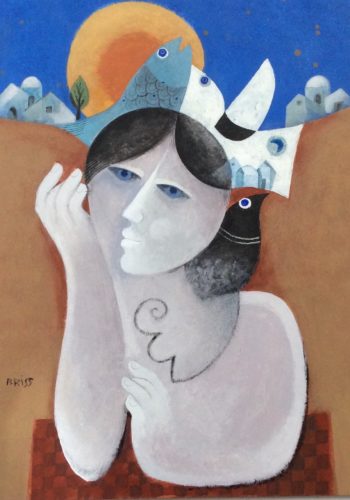 Plein soleil, 2017
Acrylic on panel
65 x 46 cm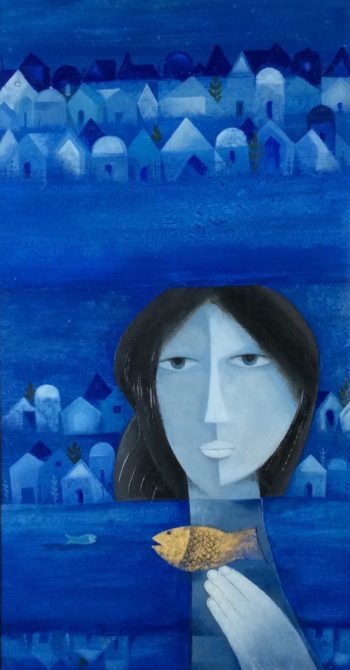 Et la lune était bleue, 2019
Oil on panel
80 x 40 cm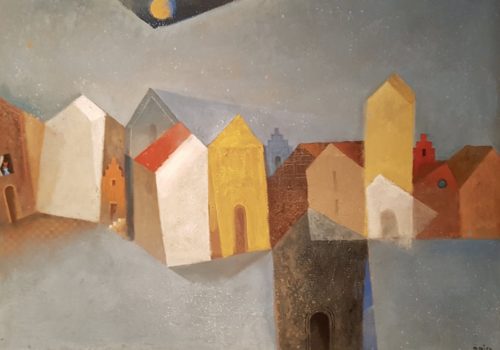 Sun city, 2016
Oil on panel
45 x 60 cm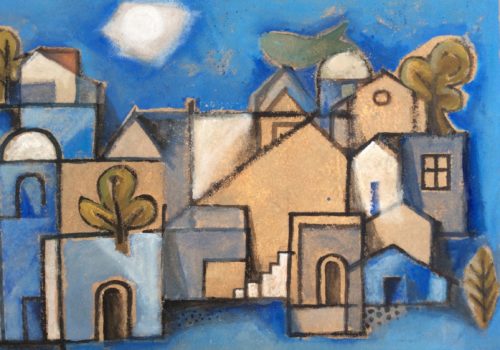 La Provence bleue, 2019
Oil on panel
50 x 72 cm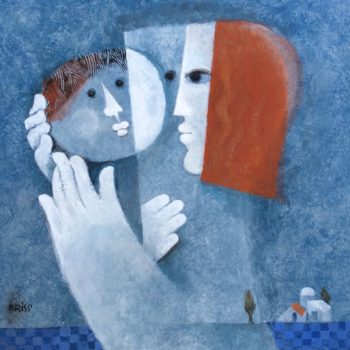 Tendresse, 2010
Oil on panel
50 x 50 cm
Blue eyes, 2017
Oil on panel
60 x 60 cm
Mon petit oiseau d'or, 2015
Oil on panel
31 x 23 cm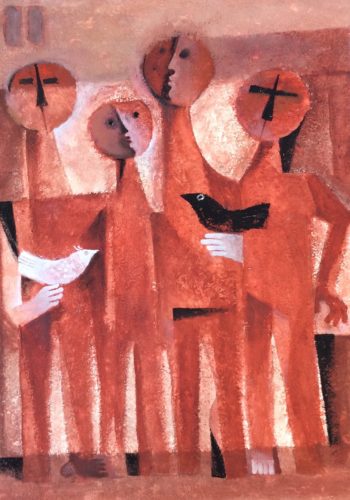 Les oiseleurs, 1985
Oil on panel
66 x 53 cm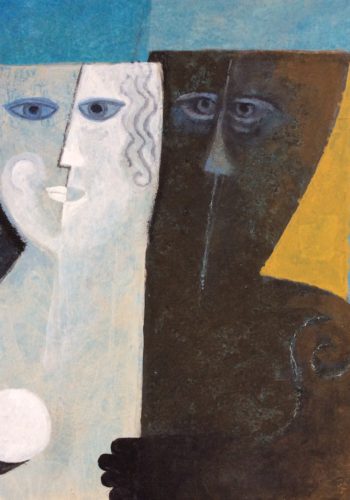 Black and white, 2019
Oil on panel
60 x 70 cm
COLLAGES
[/vc_column_text][/vc_column][/vc_row]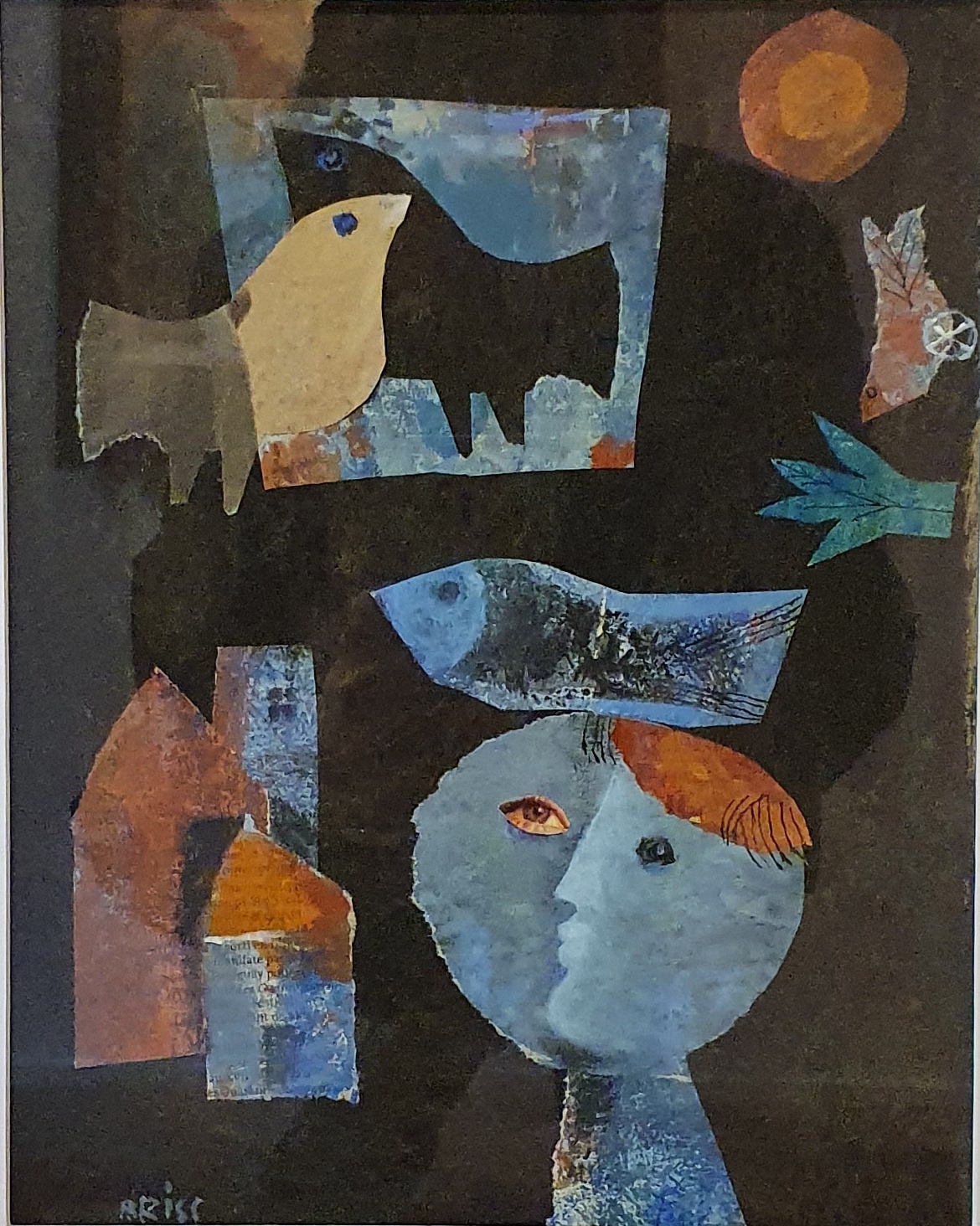 Les Oiseaux dans le village, 2019
Collage and acrylique on paper
30 x 20 cm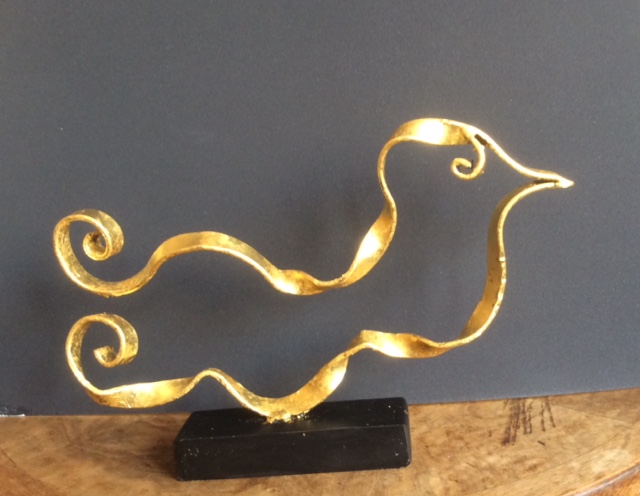 L'Oiseau, c. 2017
Gold metal
19 x 29 cm