Max Papart's paintings and graphics are suffused with sunny humor and the bright colors of the French Riviera where he was born.
 Working in the cubist style, he depicted circus scenes, flirting couples, soaring birds and similar cheerful subjects with flat, overlapping planes of contrasting colors and textures.
Max Papart is considered a master printmaker. He was born in Marseille, France and later moved to Paris where he learned the techniques of classic engraving. In 1960, he added to the classic processes the technique of etching with carborundum invented by his friend Henri Goetz. In following years Papart taught printmaking at the University of Paris VIII-Vincennes.
He continued making his own plates and supervising the hand printing of his prints until he died in 1995.
One of the most intriguing intellectual concepts which Papart achieves is a "window" through which the viewer senses the past or future, or even another time or place. It has been said the Papart does not "paint," he "composes." His compositions come together in a symphony of line, shape and color. Papart always believed that each painting has its own meaning and needed no interpretation from him. His paintings, in his own words, "force the viewer to think, and it is for the viewer to respond to the art based on his own personal experiences."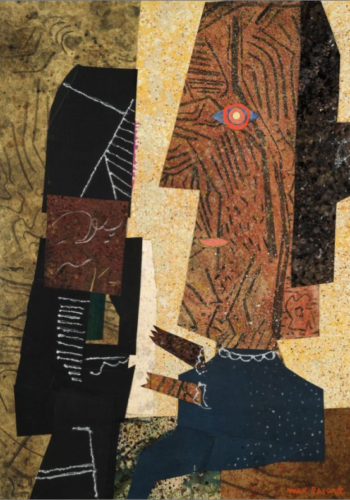 La Complainte de Buffalo Bill, C. 1970
Oil and collage on canvas
65 x 50 cm
One Way, C. 1970
Oil on canvas
80 x 80 cm
Sensation Méridionale, 1960
Oil on canvas
41 x 27 cm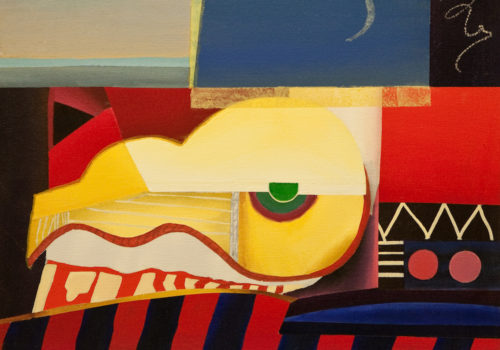 Yellow Guitar, C. 1990
Oil on canvas
65 x 54 cm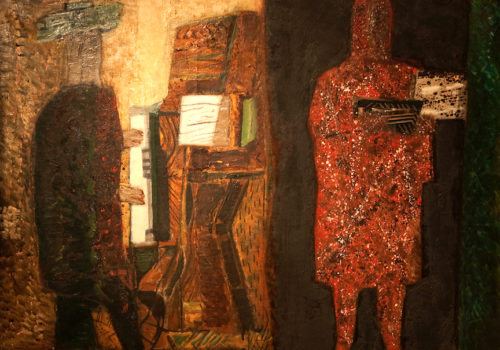 Piano Vert et Brun, 1963
Oil on canvas
65 X 81 cm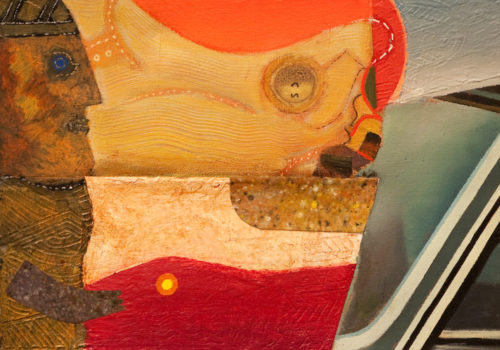 First Man on the Moon, 1972
Oil on canvas
54 x 65 cm
1975       Max Papart, la vie, l'homme, l'oeuvre
Ed. Vision sur les arts (Marseille), André Caraire et Bernard Plasse
1976  Max Papart, Jacques Baron. Traduction anglaise de John Campbell, Ed. J. Goldschmidt "Le Musée de poche" (Paris)
1979   L'oeuvre gravée de Papart, catalogue de l'oeuvre gravé de 1968 à 1979, avec un texte de l'artiste sur la technique de la gravure, Michel Bohbot et Stig Johanson, Ed. Galerie International (Stockholm).
1980   Max Papart, l'homme, l'artiste et l'oeuvre, Daniel BIRY
1984-85   Max Papart, Roger Green. ed. Rizzoli International Publications (New York)
1984-85   Max Papart, Roger Green, traduction française de Robert Marrast, Ed. Cercle d'Art
(Paris)
Victoria and Albert Museum,
London
National Gallery,
Musee Cantini,
Marseilles
Fondation Maeght,
St. Paul de Vence
Israel Museum, Jerusalem
Indianapolis Museum of Art
New Orleans
Museum of Art
High Museum, Atlanta
Bibliotheque Nationale de l'Arsenal, Paris
Salle de l'Aubette de la ville de Strasbourg
Ft. Lauderdale Museum of Art
Jacksonville Art Museum
Phoenix Art Museum, Phoenix
Syracuse University
U.C.L.A.
Yale University
Museum of New Mexico, Santa Fe